Many industries – consistent philosophy
The automotive industry, home appliances, energy and environment, home care, medicine technology, furniture industry, grocery packaging – we will find fitting solutions for everything. All based on a philosophy always based on our values and strengths, including:
Your project or challenge will get our focused attention.
Our feedback questions will help us both to define the needs.
Our creative thinking will provide you with an economic solution.
Our global networks will provide a long-term benefit.
Our proposal and offer will exceed your needs.
Our production will exceed your quality requirements.
Your satisfaction is ensured through our reliability.
Technics · think · possible
If everything seems under control, you're just not
going
fast enough.
Mario Andretti
Wilding, Ludwig, Kinematische Komposition, 1967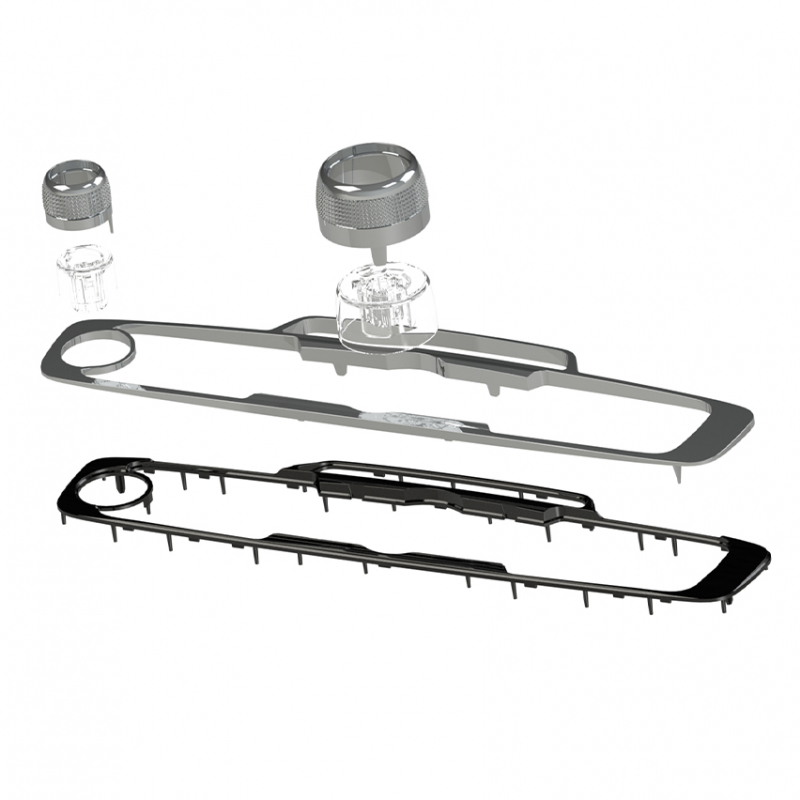 Function integration – more performance, less costs
3 to 1, 4 to 1, or 9 to 1. Sound like great soccer scores? Well at Veeser, we achieved such ratios by utilizing high functioning integrated concepts. We have replaced 9 components with one. The economics of such high efficiency processing speak for themselves. We have often realized increased product quality and reliability, in addition to reducing the Total Cost of Ownership.
Tight tolerances, the highest decoration requirements in the high gloss department, extreme stiffness, long thin-walled parts, resistance against agents and high temperatures, hinges, seals, sight-glasses, joints. Whatever may cross your mind, even if not fully thought through: Call us! Together we will find a solution.
Very individual solutions for the most diverse markets: think
possible

.

What do the mass production of grocery packaging and the high volume production of glove boxes have in common? Maybe Nothing. Or maybe everything when you consider how we have solved both Customer challenges. By means of innovative thinking and progressive technology. We know, it is better to thoroughly think in advance than to be disappointed and upset in the long run.
think clean: Grocery packaging
think function: E&E
think lean: : Automotive industry
think sustainable: All customers
think integration: Household appliances
think clean-room: Medtech und homecare
think motion: Garden Irrigation
think digital 5G: All customers
think transparent: Optical industry and light guides
0,01 mm is a dimension to us,
not a tolerance.
What is still left as a tolerance? Not too much. Of course, not everything happens in the range of 0,01 mm.
On our product page, we explain our approach to such special tasks, including how we will work with you to develop solutions for particular challenges.
However, if we can only produce the desired result with an unjustifiable effort, we will let you know early on, and provide you with a thorough explanation.